Tuesday, March 29th, 2005
I'm reading Octavio Paz's brilliant survey of Marcel Duchamp's art. What Duchamp is most known for, or at least the context I knew him in, is the "Readymades". These are ordinary technological artifacts made into art by the minimal act of baptism by an artist. "Fountain," a urinal signed R. Mutt 1917, is the most recognizable example: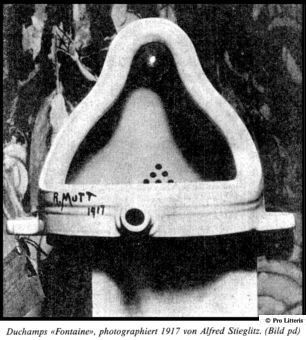 A perfectly ordinary piss fountain.
Paz explains it better than I could:
One stone is like another and a corkscrew is like another corkscrew. The resemblance between stones is natural and involuntary; between manufactured objects it is artificial and deliberate. The fact that all corkscrews are the same is a consequence of their significance: they are objects that have been manufactured for the purpose of drawing corks; the similarity between stones has no inherent significance. As least this is the modern attitude to nature. It hasn't always been the case. Roger Caillois points out that certain Chinese artists selected stones because they found them fascinating and turned them into works of art by the simple act of engraving or painting their name on them. The Japanese also collected stones and, as they were more ascetic, preferred them not to be too beautiful, strange, or unusual; they chose ordinary round stones. To look for stones for their differences and to look for them for their similarity are not separate acts; they both affirm that nature is the creator. To select one stone among thousands is equivalent to giving it a name. Guided by the principle of analogy, man gives names to nature; each name is a metaphor: Rocky Mountains, Red Sea, Hells Canyon, Eagles Rest. The name — or the signature of the artist — causes the place — or the stone — to enter the world of names, or, in other words, into the sphere of meaning. The act of Duchamp uproots the object from it's meaning and makes an empty skin of the name: a bottle rack without bottles.

. . . [In] the end, his gesture is a philosophical or, rather, dialectical game more than an artistic operation: it is a negation that, through humor, becomes affirmation. Suspended by irony, in a state of perpetual oscillation, this affirmation is always provisional. It is a contradiction that denies all significance to object and gesture alike; it is a pure action — in the moral sense and also in the sense of a game: his hands are clean, the execution is rapid and perfect. Purity requires that the gesture should be realized in such a way that it seems as little like a choice as possible: "The great problem was the act of selection. I had to pick an object without it impressing me and, as far as possible, without the least intervention of any idea or suggestion of aesthetic pleasure. It was necessary to reduce my personal taste to zero. It is very difficult to select an object that has absolutely no interest for us not only on the day we pick it but that never will and that, finally, can never have the possibility of becoming beautiful, pretty, agreeable or ugly. . . ."