Tuesday, May 8th, 2007
Went to see Busdriver on Saturday night. Totally great show, but unfortunately it seems like he's kind of a jerk. I went to buy some merch and he was there looking tired and grumpy. After picking out a CD, I noticed he was reading Confederacy of Dunces, which I'd just finished reading a couple weeks ago. So I was like, "Hey I just read that book a couple weeks ago, it's awesome huh?" and he was like, "that's twelve bucks." (The CD, not the book.) I was a little put off, but whatever, his show was super energetic with a nice diverse set list and massive electro backup.
He was opening for CocoRosie, but I didn't stay to see them. I read on Pitchfork that they were arrested the next day, probably for bringing some Vancouver souvenirs back across the border.
The first opener was pretty rad though, a French beat-box guy named Tez. Here's a youtube video, for your viewing pleasure. Note that he's not using any instrumentation, it's all mic.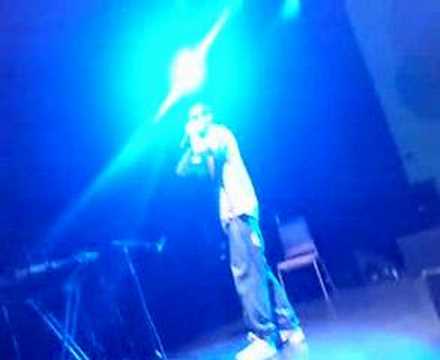 Apologies for the lack of updates lately. More delicious content coming soon, I promise!